We help and bring the victory of Ukrainians closer
Vitaliy Bokhniak together with YMCA Ukraine volunteers created a humanitarian aid hub in Lviv. Volunteers from Kyiv and Lviv receive, sort and distribute humanitarian aid from our friends from Europe.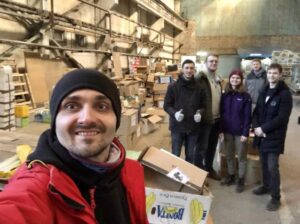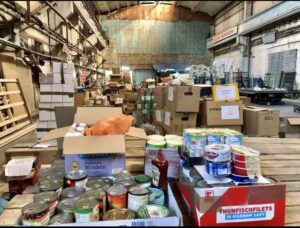 After a short preparation activity, the starting point for HRH was March 7, 2022. All
activities were implemented during the high intensive period of war when almost
all territory of Ukraine suffered from heavy fighting and/or or intensive shelling:
● A coordination team and volunteer community were formed.
● An online tool was created to track storage supplies and manage a database.
● A fully functional storage facility 150 m2 in the area was organized.
● 1.5t mini bus was purchased for transportation needs.
● 7.7t of humanitarian aid was processed in a storage facility within a month.
● ~7t of aid received from YMCA Berlin including food, hygiene items,
batteries, torches, diapers, kids nutrition, etc and additionally ~0.7t of
supplies (mainly food) was received from private donors from Poland.
● Parcels were sent to 15 destinations around Ukraine including 9 local
YMCAs.
● More than 1000 people benefited from the provided aid.
● A family of 4 people and a dog were evacuated from the high-risk area.
● Extra ~19t of humanitarian aid is expected to be delivered from Spain and
YMCA Scotland within the next few days.
YMCA compiled, packaged and dispatched the basic packges of medicines, food, clothes, utensils and hygiene products to most needy families, majorily mothers with children. From Lviv YMCA has dispatched the essentials by post to Kremenchuk, Kropyvnytskyi, Zdolbuniv, Zaporizhia, Odessa and Poltava. At the same time they try to transport aid by own vehicles to the active war zone.