The final national meeting provided an opportunity to share the project's experiences with key participants, national trainers, consultants, and the staff of the national office. The meeting included a presentation of the main results of the project and a final survey of participants (assessment of changes in participants after the project, general well-being, and assessment of changes in knowledge and skills of project participants), a session on planning new projects, sharing best practices.
During the project, participants discussed interesting practical topics, received and performed individual and group practical tasks, developed their potential, shared skills with young people in their local YMCA. Young people felt fuller, healthier, and more confident in their ability to create the future they wanted.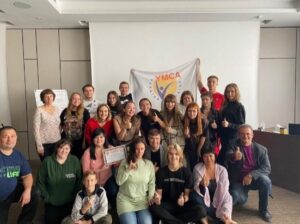 Project results:
– 300 young people aged 15-30 will use acquired skills to cope with anxiety and other mental health problems and become much more resilient to crises;
– Participants can take proper care of their health in everyday life and emergencies;
– The increased ability of young people to take care of their physical, and mental health (in everyday life and especially in times of crisis).